Korg has made two exciting new gear announcements at NAMM including a resurrected mini version of its MS-20 synth and the KingKORG analog modelling synth.
The new MS-20 mini replicates the original synth's analog circuitry from 1978 but comes in a case that's 86% of its size. The all-new synth reproduces the distinctive synthesis of the MS-20 with two oscillators with ring modulation, and envelope generators with hold and delay. The VCA maintains the basic design of the original, but it's been modified to produce less noise than the original.
The synth's external signal processor (ESP) carries on the experimental spirit of MS-20; it allows you to use the pitch or volume of an external audio source to control the synthesizer. For example you can input an electric guitar and use the MS-20 mini as a guitar synthesizer, or input a mic and use it as a vocal synthesizer. The patching system provided to the right of the panel lets you create complex sounds by plugging-in cables to change the connections between the various units. Different combinations of the modulation input/output and trigger, sample and hold, and noise generator can produce an incredible variety of sounds.
The MS-20 mini provides a MIDI in jack for receiving note messages, and a USB-MIDI connector that can transmit and receive note messages. You can even connect the MS-20 mini to your computer and play it from a sequencer.
Article continues below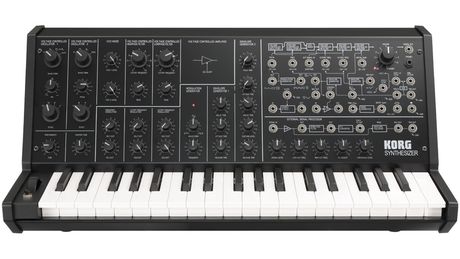 Next from Korg, the company has announced the KingKORG analog modelling synth that follows in the tradiiton of the MS-20 and Mono/Poly.
The 61-note KingKORG is not a truly analog synth but offers a three-oscillator X two-timbre design and newly developed XMT (Xpanded Modeling Technology) modeling sound engine for sound creation. It also comes loaded with a selection of 200 stage-ready preset programs organised into eight categories such as Synth, Lead, and Bass and space for 100 user presets.
In a conventional synthesizer, the sound-creating process requires you to adjust the oscillator settings one by one, making it difficult to see the overall picture. In contrast, KingKORG provides pre-set algorithms that contain combinations of various types and numbers of oscillators, letting you easily and quickly sculpt stage-ready sounds. The wide range of oscillator algorithms includes the choices you'd expect from an analog synthesizer–sawtooth wave, square wave, and noise–in addition to numerous PCM/DWGS algorithms, giving you plenty of choices for creating highly personal sounds.
The synth provides three master effect sections, each giving you a choice of six effect types: PRE FX, with types such as distortion and amp simulator; MOD FX, with classic effects like phaser, chorus, and tremolo; and REV/DELAY, with ambience effects such as hall reverb and modulation delay. For added warmth or to create powerful overdrives, the KingKORG has a full-analog vacuum tube driver circuit. The built-in vocoder uses audio from the onboard mic input to modify the sound, creating an effect as though the synthesizer were talking. The vocoder features Formant Shift to dramatically modify the tonal character, as well as Formant Hold, which allows you to 'freeze' a vowel sound and play it back using the keys.
For full specifications and more info on Korg's new offerings visit their website here.
If you're visiting the 2013 Winter NAMM show, be sure to swing by the New Bay Media stand in Hall B, booth 5761 to pick up a special NAMM edition of MI Pro.